From historic palaces to mobile tents, tea plantation houses perched on the sides of Himalayan peaks to languorously trawling houseboats, each of the most characteristic hotels in India promises a memorable - and truly distinct - stay. Spread across the subcontinent, from the mountains of the north to the tropical south, these venues are as adept at pampering as they are at immersing guests into beguiling local environments. Have a look at the top 10 most characteristics hotels in India recommended by the India Travel Specialists at Indus Bound!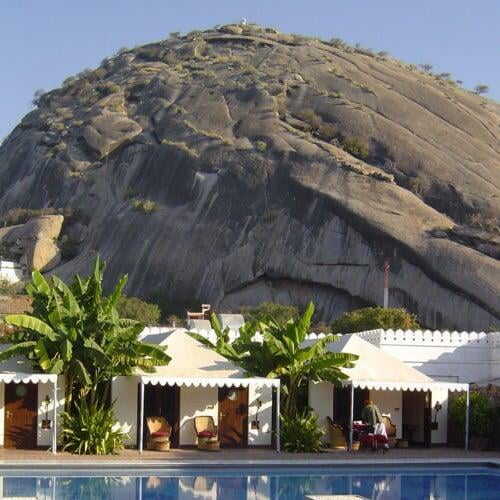 Rawla Narlai, Narlai
Tucked away in Rajasthan's Aravalli Hills, Rawla Narlai hotel has turned a 17th-century royal hunting lodge into a serene escape from India's bustling tourist trail. Occupying two wings: one historic, the other contemporary, each of the 32 rooms has been individually decorated. The vintage rooms showcase each space's ornate frescoes and archways, and the modern wing is awash with marble and fine filigrees in local designs; all are furnished with the owners' collection of antiques. A pool, sensational spa and manicured gardens are ample reason to stay put, but the best of Rajasthan is easily explored from here, including world-heritage temples and forts, lazing leopards, hiking trails and tiny villages.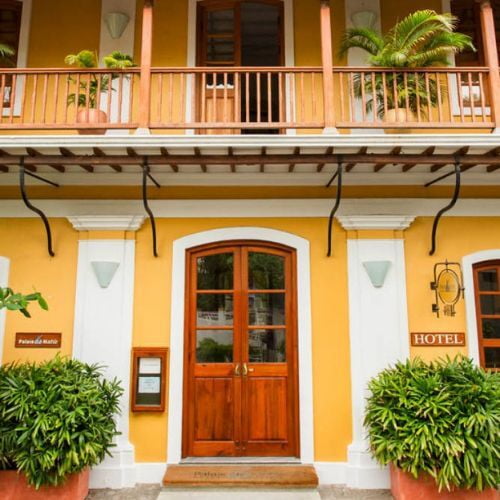 Palais De Mahe, Pondicherry
Situated in the historic French quarter of Pondicherry, Palais de Mahe is just a short walk from the lively promenade and Bay of Bengal seafront. Aside from the ideal location, it has a relaxing ambience, top quality food and friendly staff within its colonial walls. Resembling a traditional French-style mansion with yellow and white exteriors, inside you'll find rooms adorned with local art mixed with modern touches. An inviting pool sits in the centre of the courtyard of which rooms face down on; an ideal spot to relax and cool off, or perhaps you may want to head up to the rooftop terrace for views over the town. Outside the hotel, close by you can venture to churches, parks, markets, eateries and places to shop.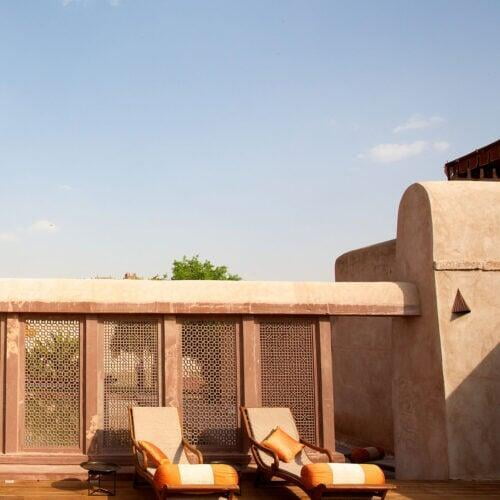 The Ranvas, Nagaur
Off the beaten Rajasthani path into the Thar Desert, a 2-hour drive from Jodhpur, looms Nagaur's massive 12th-century Ahhichatragarh Fort, a magnificent 35-acre jumble of elaborately frescoed halls, temples, graceful colonnades and Mughal pleasure gardens. And within its walls sits Ranvas, an elegant 27-room hotel spread across a cluster of 18th-century havelis, originally built for the queens of the Maharaja of Jodhpur and now carefully restored with the modern traveller in mind. The hotel's common spaces are lovely, too: an open-sided dining pavilion and lounge, an air-conditioned restaurant, a central courtyard with fountains, ponds, peacocks and pomegranate trees, and a pool so inviting you can barely muster the energy to visit the enchanting palace and museum complex next door.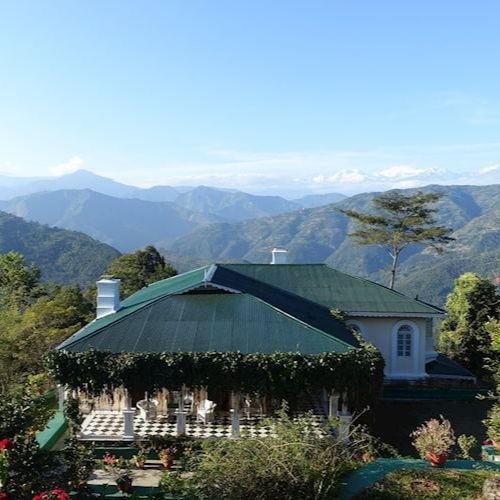 Glenburn Tea Estate, Darjeeling
Perched on the banks of the River Rungeet on a sloping hillside, Glenburn Tea Estate is a haven in the Darjeeling region with stunning views of the towering Kanchenjunga mountains. Expect to feel well looked after and like you're at home. The owners have worked hard to devise a schedule of well thought-out activities, all guided by experts, that show off the region's beauty and diversity: try hiking, tea tasting, fishing, and biking. Shared meals are served in the dining area, and you can expect high-end cuisine and delicious drinks, all of which are included in the package price. The Colonial-style bungalow accommodation is intimate – there are only eight rooms in total in two bungalows - and lovingly restored a lovely blend of older style furnishings.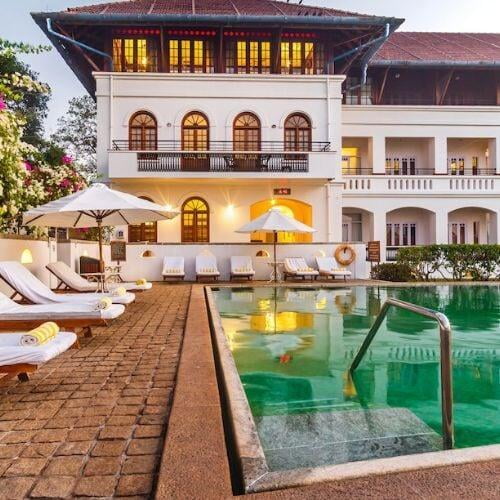 Brunton Boatyard, Cochin
Brunton Boatyard used to be a Victorian shipbuilding yard, and the period building was recreated with painstaking detail and much love in 1999. The result is a great hotel in Cochin Harbour, full of artefacts and special touches that pay tribute to the melting pot of English, Dutch, and Portuguese influences. Cochin Harbour is the beating heart of the town, where fishermen haul in their daily catches and longboats sail past. Around the harbour, the town is oozing with Jewish flair, full of characterful antique shops, and you can see the crumbling remains of the once-glorious fort and amble along the historic jetty. Cochin is the northernmost point of the world-renowned Kerala Backwaters, which extend down to Alleppey in the south.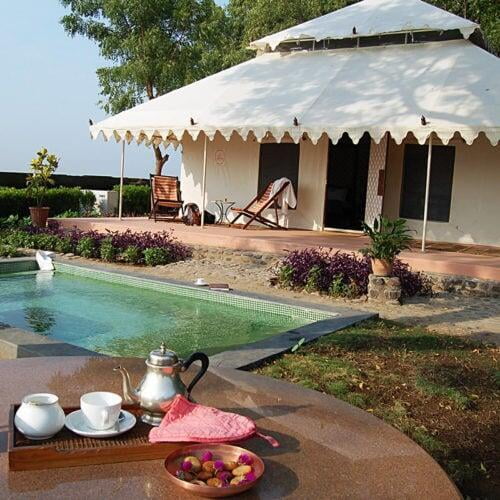 Ahilya Fort, Maheshwar
Constructed by Ahilya Bai Holkar in the 1800s, the Ahilya fort is steeped in fascinating regional history. Maheshwar, for example, has been inhabited for around 4,000 years. The River Narmada is affectionately known as Madhya Pradesh's lifeline and is a flurry of activity and colour best viewed from the hotel. You can stroll along the banks, take a wooden boat trip to Thousand Cascades, and bathe in the sacred waters. Baneshwa Shiva Temple and the Rehwa Society are close.

Fully integrated into the village, the fort is staffed predominantly by local residents. The distinctive character of this hotel is delightful and the view of the ghats below is truly spectacular. A real highlight is enjoying a gin and tonic at sunset and just taking it all in. Come to Ahilya Fort for simplicity, tranquility, and relaxation in Maheshwar.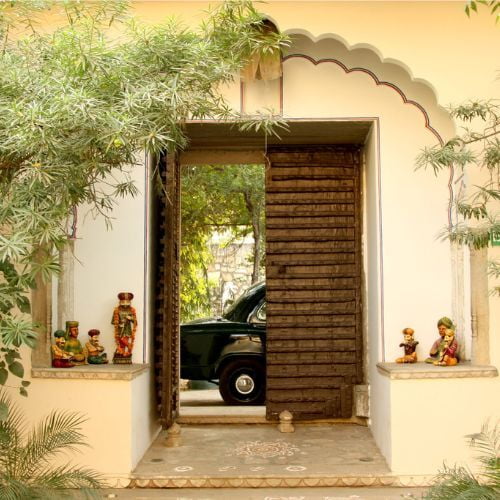 Dera Mandawa, Jaipur
As you step through the pole (entrance doorway) at Dera Mandawa, time slows its pace to usher you into the leisurely luxuries of an era gone by. A calm retreat away from the chaos of Jaipur, the property has been built in a traditional style, with Rajasthani arches and awnings complementing British touches. It's decorated in rich colours and furnishings which provide an authentic Indian ambiance. The Singhs are attentive hosts and make their guests feel very much a part of the family, even giving them the opportunity to join in the family temple ceremony each evening.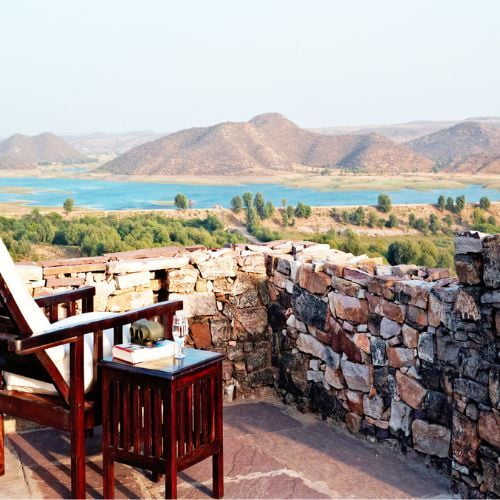 Ramathra Fort, Karauli
On a hilltop far away, this intimate hotel and camp within a 350-year-old fort has staggering views and offers a window into rural Rajasthan. It's safe to say that the craftsmen who built this Rajput battle fort were not thinking about luxury tents and sundowner cocktails; their minds were on elephant attacks, tribal skirmishes and marauding warriors. But 350 years later, the beautifully renovated stronghold is a real gem, and far from repelling invading forces, it welcomes visitors warmly. Staying here is impossibly romantic. The Raj Pals have cleverly renovated just enough to create a haven of fading grandeur and tumbling bougainvillea-covered walls with indulgent touches like outdoor bathrooms, storm lanterns and hand-woven dhurries.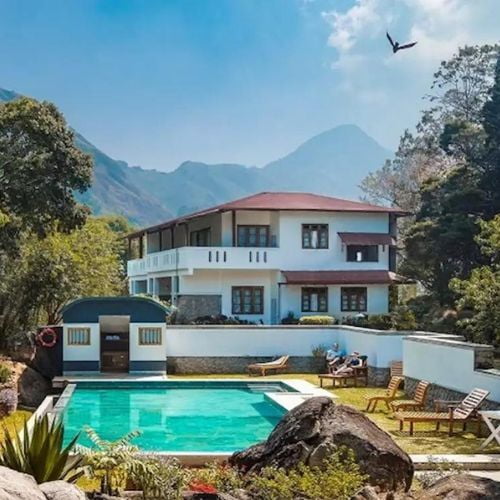 Windermere Estate, Munnar
Perched at 1,600m among vivid green tea plantations and misty blue mountains, Windermere Estate is a nature retreat with a Scottish Highlands feel. Wooden beams and floorboards, terracotta tiles, cheerfully-checked linen and lace curtains all add a warm, homely feel. Ophthalmic surgeon Dr Simon bought this 60-acre cardamom plantation estate in the 1990s and, when he opened the first 4 rooms, deliberately went for a farmhouse-cum-chalet feel rather than that of a hotel. Since then he's built 12 more cottages and planter's villas, a wooden barn housing a bistro-style dining room, a bright and airy library and yoga space, and an open-sided thatched tea hut.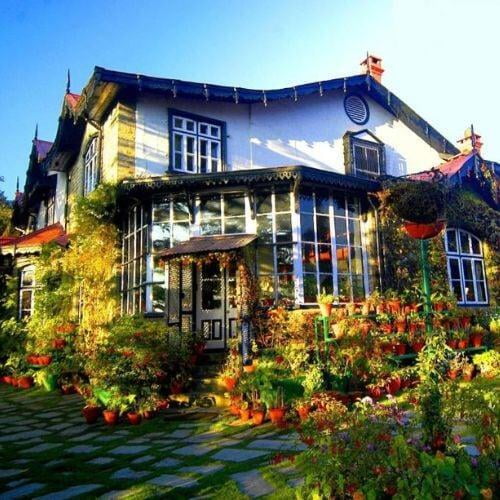 The Chapslee, Shimla
Shimla will always be a remarkable relic of the British Raj in India. A piece of heritage worth preserving before it is swallowed by the relentless and often mindless calls for development. Everything about Chapslee is just breathtaking. From the outside, the accommodation looks like a set from a fiction movie ('Alice In Wonderland', to be particular). Apart from the lush green outdoor area of the place, beautiful flowers and creepers cover the Chapslee home almost entirely. They have luxury and deluxe suites, and they are as grand as they sound. The interior decor is regal, vintage and aesthetically pleasing with huge paintings and chandeliers. Chapslee was originally built in 1828 by Dr Blake a surgeon in the East India Company, it was purchased by Raja Charanjit Singh of Kapurtala in 1938 as his summer residence.
On an Indus Bound Holiday, a boutique hotel will always have character and an informal atmosphere conducive to the enjoyment that will add to your overall India holiday experience. For us, the perfect Indian holiday often involves a stay in several different types of hotels to best experience what this incredible country has to offer.
Your private India Specialist can advise on the right balance of hotels for you. And for more details with accommodation options available in India, please write to us at hello@indusbound.com